I have been told that making a good, well established blog is to meet new bloggers. I have become a member of the Better Blogger Network and I am meeting new bloggers every day. I have been trying to do these linkups but some of them are tougher than they look.  So here is a linkup that I think I can get into. Today, I started following Gentri Lee & her 7 Question's Linkup.
My wedding photo. I am always trying to make funny faces, but this was captured perfectly! It's so me!
7 Questions – #1
1. I say "Jump" You say ______.
What you talkin' about Willis?
2. What is your favorite flower?
Orchid (Phal)
3. If you had to choose between having plumbing or electricity, which would you choose?
I would say plumbing, however don't you have to have electricity to have plumbing? i.e. flushing a toilet, maybe not.
4. What is your go-to funny youtube video? (keep 'em clean)
I can't say that I have a "go-to funny" youtube video, but there is one of my niece laughing at her mommy with a bag of frozen veggies! Annaliese cracks me up!
5. Do you think dreams mean something?
I think that dreams serve a purpose to help relax the mind while sleeping, however where some of them come from have no idea.  They might have relavance to what crossed you mind at some point in time. Did that answer it or am I ranting?
6. Do you collect anything?
Sadly, I collect pigs, figurines, stuffed animals, yard art, anything PIG.  That might explain why I don't eat pork or I may just not like the taste of it. My husband says I collect dogs. That must be because I have 4 of them that fill my life with love and lots of wet  kisses!
7. You're in a situation that is everything it should be. You're with the right people, in the right place, doing the right things, but it doesn't "feel" right… What do you do?
I would say that if you don't feel right, then it may not be right.  I would get out dodge and take a chill pill!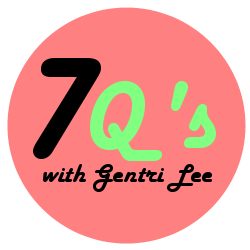 Remember to go to Gentri Lee's blog to find next weeks 7 Questions linkup. I know I will!
Love Life, Come as you are.